WHAT IS BIOLUMENESSENCE?
I love words. I love to create words or combinations of words, to capture the essence & energy of something, that may not already have a name, in order to bring that feeling, or that thing, to life.  The name BiolumenEssence is multidimensional in its meaning & creation. It is a play on the familiar word
BIOLUMINESCENCE:
ˌbīōˌlo͞oməˈnesəns.  noun
the biochemical emission of light by living organisms such as fireflies and deep-sea fishes.
If you look at a Kirlian photo of a flower, it has the same qualities as these organisms that emit bioluminescence.
BIO:
noun \ˈbī-(ˌ)ō\
~indicating or involving life or living organisms
LUMEN:
noun -lu·​men |  \ ˈlü-mən\
~unit of luminosity, from Latin lumen "light," related to lucere "to shine"
~a cavity within a plant cell enclosed by the cell walls
ESSENCE:
noun es·sence \ˈe-sən(t)s\
~ the real, and invariable nature of a thing
~ a substance obtained from a plant, by distillation, infusion and containing its characteristic properties in concentrated form.
~ the inward nature, true substance, or constitution of anything
~ a perfume; scent.
BIOLUMENESSENCE:
BiolumenEssence as I define it, is the conscious, life-affirming inner luminosity that authentically expresses the deeply aligned truth & essence of Who You Are ~often revealed as you awaken to your highest destiny through deepening your connection to the Wild~Benevolence of Nature: the very foundation of life on Earth.
BiolumenEssence was created to connect people to the heart & soul of nature, while deepening their awareness & experience of their own innate luminosity. I want people to see & feel the magic of the natural world that is unfolding around them, all the time, and the luminous nature of their own being.
All of our products are hand crafted and hand poured with Sacred Intent for the Purposeful Unfoldment of your Highest Destiny
Throughout the process of creation, we work with the Wild Benevolence of Nature,  Cyma & Solfeggio sound frequencies, sacred geometry, Orgonite & pyramid energy. These multi-dimensional energetic infusions assist in activating & illuminating the Light Body and Awakening your Luminous Nature.
SHOP
MY STORY
Hi. I'm Julie. I have always had a deep & unrelenting connection to Nature, it's medicine & magic and to Spirit/ the Universe. Nature is my church ~ I refer to the spirit of nature as the "Wild Benevolence".  I am a passionate environmentalist & defender of Gaia. My feet are firmly planted on the ground, yet my connection & faith to the Unseen is solid.  I love that flower essences hold a balance between being really grounded and earthy & really vibrational & "out there". Maybe that is why I resonate with them so much.
I was initiated into the world of plant medicine when I was about 6 years old. I clearly remember one gorgeous spring day, gathering  petals from the unforgettably aromatic magnolia tree in my grandmother's front yard. I brought the petals into the house and proceeded to macerate them in water, in an effort to create "perfume". Reflecting back on that moment, there was something so ancient & wise that my 6-year-old Alchemist-Self was tapping into & embodying... and little did I know then, that I would be carrying this ancient legacy of communion with the plant community into the world, in a big way.
From making Magnolia petal perfume & spending the majority of my time hanging out in my tree fort, to being made aware of the insidious role of the Patriarchy when I learned at 8 years old that girls/women weren't allowed to serve as altar girls or in any high roles in the Catholic church, to being fascinated by ESP, life after death, and wanting desperately to have an out of body experience... (I remember freaking my mom out with that one, as we browsed the "Occult" section of Walden's Bookstore when I was about 9 years old), there have been signposts throughout my life, indicating that I was tapped into something larger, that I didn't quite understand at a young age.
As I got older, I quickly became bored with traditional education knowing that I was just learning what everyone else already knew.  I wanted to know the secrets of the universe. I wanted to understand holistic healing modalities, and all the unseen "woo woo" stuff. I wanted to know how energy works, and how healing happens, where did the pyramids come from, and how can we possibly think we are alone in this vast Uni-Verse?…Back in the mid 90's, there were few places where you could go to learn such things…and without the internet at my fingertips, I did only what I knew to do… I followed the synchronicities that the Universe (sometimes not so subtly) placed before me. This lead me to learn energy healing, study Anthroposophy, become an apprentice at the National Center for the Preservation of Medicinal Herbs, study holistic nutrition, Western & Chinese herbalism, plant spirit medicine, several modalities of energy healing and metaphysical & clinical aromatherapy.
It has always been essential that my work be in alignment with my core values ~ respecting the planet and all life on it.
My work & education has, at its core, revolved around plant medicine, energy work and natural healing since 1997, when I took my first energy healing class and first began working in the Natural Products Industry. I have played various roles over the past 24 years, from sales & marketing for an aromatherapy product line & an herbal supplement company to being a consultant for an organic tea line, a purchasing manager for a couple of health food stores, and working with an importer of organic & wild harvested & essential oils. 
TRAININGS & CERTIFICATIONS
Anthroposophy & biodynamic gardening, NY 1998-1999

Herbalism & Plant Research at the National Center for the Preservation of Medicinal Herbs, OH 2000

Eastern & Western Nutrition & Holistic Health Counseling, IIN, NY 2000-2001
Reiki I,II & Mastership Energy Healing, VT & CT 1997-2001
Chinese Herbalism & 5 Element Theory, CT 2001-2002
Esocen & Freedomworks Energy Healing, CT & NY 2003-2004
Energetics & the Light Body, with Anahata & Amoraea at The Light School,  Sedona, AZ 2007
Magical & Medicinal Herbalism, Spiritual Ecology & Plant Spirit Medicine, Gaia School of Healing, VT 2007-2008
Lightwave Energy Healing, Sedona, AZ 2011-2012
Clinical/Therapeutic & Metaphysical Aromatherapy, Sedona, AZ 2013-2015
Energetics, Chakras & Self Mastery Mystery School  Sedona, AZ 2013-2014
13th Octave LaHoChi Energy Healing, CT 2017
Plant Communication - School for Aromatic Studies - with Cathy Skipper 2017
Co Creative Partnership with Nature - Pam Montgomery 2021
Alchemical Herbalism - School for Evolutionary Herbalism 2021-Present
Cosmic Herbalism with Adriana Ayales 2023
Over the past 26 years, while working my day jobs, I had a private holistic health coaching & energy healing practice, I taught energy healing classes, gave wellness lectures at corporations, wellness centers & new age stores, and taught the flower essence segment in an Aromatherapy Certification Course. I started making flower essences in 2008, while I was living in Vermont. I was instantly enamored with how they bridge the gap between energy & herbalism. I started collaborating with a friend who does sound healing; we started infusing sound frequencies into water & into the flower essences. We made healing protocols for different bodies of water (the Connecticut River, the Atlantic Ocean, etc.), and for the woods behind her house that was clear cut and ravaged. The pain of the land was excruciating to endure. We did ceremony on the land, for the land, and for the waters. I think it was as healing for us, as it was for the planet. At this same time, I went to a Cymatics conference & learned more about sound and the healing effects of frequency…and for the first time saw the visual signature that sound waves imprint on water, thanks to a device called the CymaScope.
I moved to Sedona, Arizona in 2009, where I lived for six and a half years. It is a place of unparalleled beauty & spirit, with, what feels like, strong galactic ties. My time in Sedona taught me discernment, and schooled me in energy – my own and others'. My time there was expansive…packed with land journeys, sweat lodges & pipe ceremonies, frequent immersion in mind expanding theories & information on pyramid technology, the Source Field, ascension, inner earth & aliens (you could talk about these things to almost anyone you ran into in the grocery store). I was exposed to many amazing teachers & researchers in the realm of metaphysics.  I worked with a a couple of friends, doing energetic planetary healing both on the land and remotely. Above all, the land there was my teacher…there was always an open door to wonder, and the craziest magic & synchronicities every time I set foot out on the earth, and put my heart close to the "Mama". 
In 2013 I created AlcheMystical Apothecary (renamed BiolumenEssence LLC in 2016). In December of 2015, it was time to move back to CT. I felt the lush green of the east coast calling me home. I missed my plant community that I had come to know, and the soft, mossy earth under my feet. I spent most of my time the following spring & summer outside, taking photos, gardening, milking goats, and just being in awe at watching flowers bloom so much more abundantly than they do in the high desert of Arizona.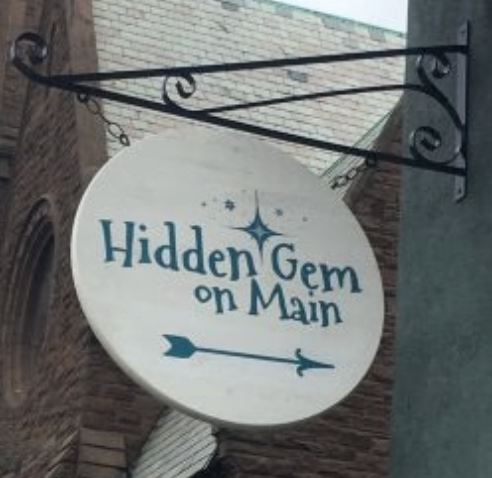 HOMETOWN MAGIC
I spent many of my Sedona days dreaming about the apothecary space I wanted to create, with a retail shop in front, in my hometown in CT. At the end of 2018 I opened Hidden Gem on Main with a friend of mine, where I created the BiolumenEssence Aromatic & Botanical Blending Bar. A magical space where  products are created & classes are held - to educate & inspire others to open their wild hearts to the wonder & magic of plant medicine.
VISIT THE BLENDING BAR
"As we move farther away from our natural wildness, we are longing for pieces of ourselves that are essential yet long forgotten. It is my passion to capture the wild~benevolence of nature and make it available to everyone. Connecting with nature, whether through a flower essence, essential oil, or being barefoot~lying with our heart to the Earth, it is essential to the remembering of Who We Are."
Our innate connection to the Earth feels like it is being systematically conditioned out of us, as we spend more time looking at our devices than we do at a sunrise or the night sky. This relationship is essential to our humanness, our health, and the health of this planet. They say that you are what you eat.

I share these essences & aromatics with you, as you ingest them, apply them & work with them, may you feel Nature starting to work her magic & awakening within you.
ENERGETIC & BOTANICAL ALCHEMIST & FOUNDER